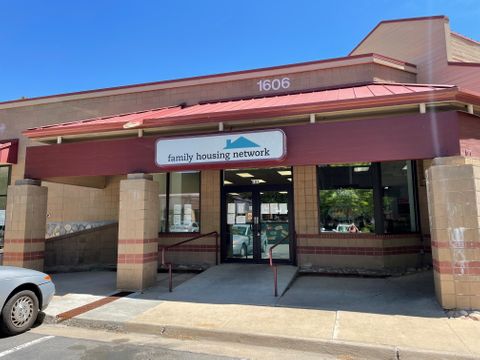 If you are interested in volunteering with us please fill out our online volunteer application.
Host FFH's Overnight Shelter
Host congregations open their facilities to provide overnight shelter and meals to four guest families (up to 22 individuals) for a week at a time on a rotating basis. Each guest family maintains their same family room for the week. Most host congregations serve four rotations per year. Volunteers from the hosting congregation spend time with our guest families each evening during their rotation, providing hospitality from time of arrival before dinner through time of departure in the morning. This nurturing ministry of presence to both parents and children is a key stabilizing factor in their journey out of homelessness. A typical hosting week involves over 50 volunteer positions in capacities involving set-up, hosting, preparing meals, overnighting, and take-down.
There are a number of ways that faith communities, as well as individuals, can engage in the work of Family Housing Network of Fort Collins as we supports families from homelessness to sustainable self-sufficiency. If you're interested in being engaged in any of the roles listed below, or would like more information on how your congregation can become involved, please refer to our contact page, or contact Jodi Loecke at jodi@familyhousingnetwork.org or 970-484-3342. Thank you for your interest! We look forward to speaking with you!
Supporting FFH's Overnight Shelter
Each host congregation is generally partnered with a support congregation to provide additional volunteers for the given rotation. These volunteers participate in the same roles as the host congregation. Individuals unaffiliated with a host or support congregation, yet interested in getting involved in the Overnight Shelter operations, can be connected with a hosting or support congregation, or serve as a volunteer back-up.
FHN's Day Center
FHN's Day Center provides our guest families with a day-time family-friendly setting in which they can multi-process all of their daily activities. Centrally located at 1606 S Lemay Ave #103 in Fort Collins, parents and children have a safe place to spend the day away from the elements and to access resources such as case management, computers/internet, showers, laundry facilities, napping/illness recuperation rooms, kitchen, agency meeting space, child play space, homework tables, etc. Volunteers are needed to help ensure that the FHN Day Center is a welcoming and restful place, and often find themselves playing with the children and/or sharing reassuring conversations with parents.
Day Center volunteers play this critical role so that professional staff are free to provide case management and oversee the managerial and administrative tasks of the organization. The Day Center is open 9am- 5 pm Monday – Friday; 9am - 4pm Saturday; 12 - 5pm Sunday. To volunteer, please call the FHN Day Center at 970-484-3342 to discuss available opportunities. You may help by sharing your special skills or simply sharing your time. Volunteer training is regularly available. Criminal background checks are performed on all Day Center volunteers following their first day of volunteering.
Financial and In-kind Support
FHN must raise over $400 per day, 365 days per year, to provide the necessary wrap-around support our guest families need to achieve sustainable self-sufficiency. We welcome all financial donations, and encourage you to visit our donation page. We also encourage volunteers with an interest in grant writing or event planning to contact us.
In kind donations for the FHN Day Center, such as drinks and snacks, are always welcome. Please contact us for a current list of our needs, which may include seasonal clothes, diapers, backpacks, car seats, etc. When families move into permanent housing, we are often able to help connect them with generous volunteers who have furniture and other household goods to donate in order to furnish their new homes.
Board of Directors
Governance of our rapidly growing nonprofit is provided by a Board of Directors (BOD) composed of 9 individuals. If you have a passion for the mission of FHN, and feel you may want to serve at this level, please consult our Executive Director for a BOD candidate packet. We are especially interested in candidates with BOD experience, and skill in strategic planning, fundraising, and communications/marketing.